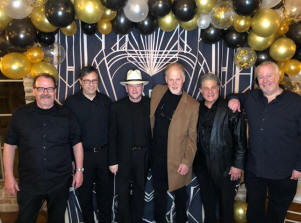 THE HISTORY OF THE CHILL!
Back Home
The "charter" Chill members originate from Vicksburg around 1970. The Chill name was adopted about 1984 and has held true since. The movie title and music of "The Big Chill" is what sparked the name. See the great story with all the details in the Vicksburg Post article link below.
Our style is Classic Rock and Roll, Motown, and Variety Dance Music. We bring added kick to concerts, festivals, corporate events, weddings, receptions and private parties.
Printable Song List

The Chill Sound is an exciting blend of horns, guitars, percussion and vocal harmony, with a unique combination of fun personalities ready to create a party. When the Mid South wants a party they will be talking about for weeks, they call The Chill.
Individually, our members have performed with such national talents as Bob Hope, Lovin' Spoonful, BJ Thomas, Young Rascals, Spinners, Monkees, Chuck Barry, Ray Charles, Coasters, Guy Lombardo Orchestra, Guess Who, Grass Roots, Helen Ready, Wilson Pickett, Johnny Mathis, Temptations, Smokey Robinson ... and many, many more.